The Montessori Kindergarten, also known as the Children's House, offers children a strong foundation for essential learning such as reading, writing, and mathematics. Our classes are 100% bilingual, taught by professionals whose native language is either English or French.
« Montessori Kindergarten – Nurturing Exploration and Growth from 2.5 to 6 Years »
Our bilingual Montessori kindergarten environment, a mixed-age class for children from 2.5 to 6 years old, invites every child to explore, grow, and thrive. Our space is prepared according to Montessori principles, stimulating innate curiosity and overall development.
Adapted Montessori Materials: Children have access to materials specially designed for their age and development, fostering a tactile and sensory understanding of fundamental concepts.
Prepared Montessori Environment: Our classroom is arranged to encourage independence and discovery. Each element is designed to stimulate curiosity and promote self-directed learning.
Abundance of Activities: Our approach offers a variety of engaging activities, from sensory exploration to reading, writing, and mathematics. This sparks children's interest in learning from a young age.
Teacher Guidance through Observation: Our teachers are caring guides who carefully observe each child. They encourage the cognitive, social, and emotional growth of each individual while respecting their individual pace.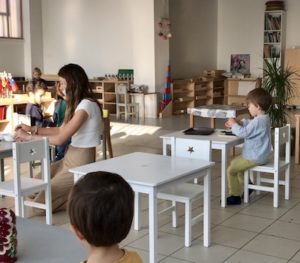 In the Montessori kindergarten, we create an environment where curiosity is nurtured, skills are developed, and each child finds their place in the world of learning.
For more information or to schedule an appointment contactez-nous.   
Every day, during group activities and uninterrupted work periods, each child acquires fundamental knowledge at their own pace. Specially designed Montessori materials facilitate a step-by-step progression. In the mixed-age class, peer learning is encouraged. Throughout the school year, the Montessori kindergarten class encourages the child to explore a variety of activities at their own pace, thus covering a multitude of subjects.
"The foundations of all other activities are found in practical life."
By engaging in daily tasks such as pouring, scrubbing, sewing, and gardening, children reinforce their confidence and mastery of the environment. After mastering these skills, they apply them in useful activities like pouring juice or cleaning. This practice promotes fine motor control, coordination, concentration, and self-esteem.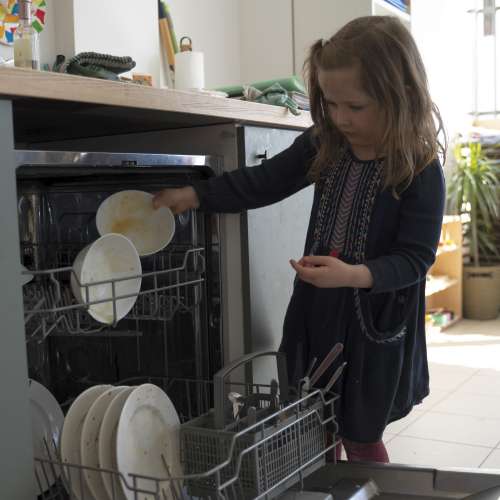 During their 'sensitive period' from birth to six years old, children explore the world through their senses.
Thus, Montessori offers numerous opportunities to organize the sensory impressions acquired since birth, indirectly preparing children to explore language, mathematics, geometry, art, and music.
"The child needs to understand and internalize social norms to feel comfortable in their environment."
Grace and courtesy lessons provide the child with the vocabulary, actions, and steps necessary to develop awareness towards others. Furthermore, this helps improve their understanding of social structure and their way of interacting.
Greeting and politeness involve teaching children to respectfully greet using courteous expressions such as 'Good morning,' 'Goodbye,' 'Please,' and 'Thank you.'
During meals or snacks, children learn appropriate behaviors, including washing hands before eating. Additionally, they acquire the ability to handle utensils correctly and use a napkin to wipe their mouth.
Language, Reading, and Writing
"Maria Montessori perceived language development as 'A treasure prepared in the unconscious, then handed over to the conscious, and the child, fully possessed of his new power, speaks and speaks without ceasing'"
A child who lives through various experiences and receives words associated with those experiences will develop a comprehensive means of expression, influencing the transition to reading and writing. This way, the child will be able to express their thoughts, understand, and interpret those of others. The material developed over time by Maria Montessori offers a consistent progression of activities that naturally leads from writing to reading.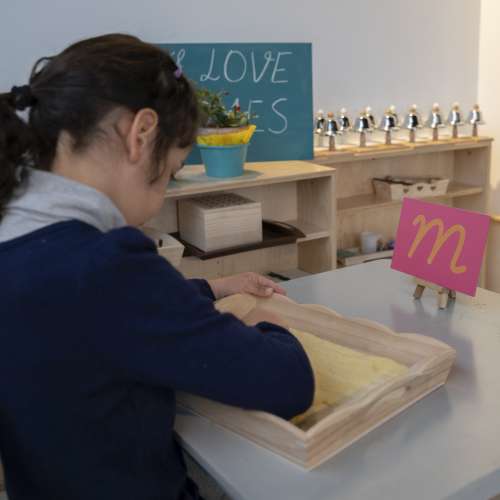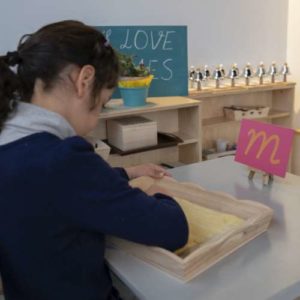 With the raised sandpaper letters, children feel and trace the shapes of the letters, facilitating a visual and tactile approach to learning.
Using the Reading Cylinders and their word-image cards, children associate written words with corresponding images, thus reinforcing their reading comprehension.
For more information about our Montessori kindergarten class, contact us!
"All their practical life activities and other sensory experiences contribute to the organization of children's minds. This represents an essential indirect preparation for the development of mathematical thinking."
The developing child desires to organize, classify, and summarize. The world around them encourages counting, for instance, their toes, reading the temperature, rain gauge, and clock. Montessori mathematics guide the child through gradual practical activities. These activities emphasize practice while preparing them for abstractions. Montessori's iconic mathematical materials offer an extensive variety of activities and variations.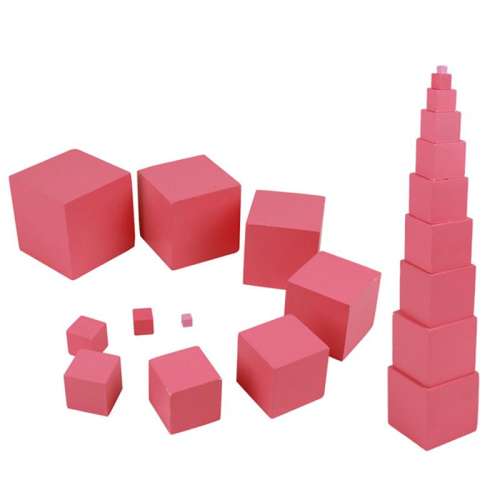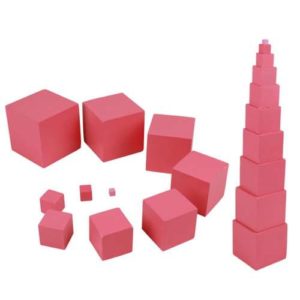 The Pink Tower consists of colored cubes of increasing sizes. It helps children grasp the sequence of numbers from 1 to 10 while developing their visual sense of quantities.
The Number Rods, varying in length, represent the digits. They assist children in understanding numerical relationships and exploring addition and subtraction concepts in a concrete manner.
"Montessori also proposes an approach based on concrete hands-on experiences before introducing abstract concepts like naming and classification."
With a 'hands-on' concrete experience, Montessori children are inspired to learn about everything! Observing plants and animals in the classroom is a natural way to explore the world. Witnessing floating and sinking will whet their appetite for physical sciences! Through tailored presentations and specific materials, they come to grasp the laws governing physics, nature, and even the universe.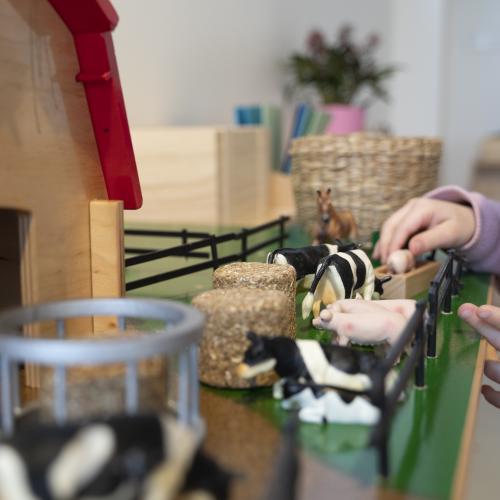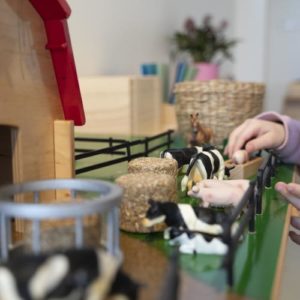 In geography, children study places and how humans adapt to them, leading them from the human aspect to physical geography, which focuses on the environment.
As for cultural geography, it delves into what Maria Montessori described as humanity's ability to 'continue the work of creation.' This encompasses essential needs like food, shelter, and clothing. Over time, human groups develop their languages, tools, rituals, beliefs, music, and arts.
Children discover how each culture is unique while also understanding the depth of our fundamental similarities.
EDUCATIONAL MONITORING OF CHILDREN IN MONTESSORI KINDERGARTEN
We individually track each child's progress through an online platform, to which every parent has confidential access: Transparent Classroom.
A Montessori school prepares the child for change, flexibility, and the development of self-confidence. To ensure an even smoother transition, we support the child and their family before any school changes.
Furthermore, for ethical reasons, we avoid the publication of children's photos in our marketing materials marketing material. Therefore, we are committed to ensuring that any published images will either depict children from behind or with blurred faces.
Our Montessori school accepts new enrollments throughout the year!
"The education of the child is the only way to build a new world and construct peace."
Dr. Maria Montessori, The Forgotten Citizen, 1947