A Private Montessori School
We Love Mômes Versailles is a private, non-contractual Montessori school that rigorously follows the pedagogy developed by Maria Montessori. These unique and proven approaches, in practice for nearly 100 years worldwide, diverge from certain standards set by the national education system. Therefore, they can only be implemented within the framework of our status as a private, non-contractual Montessori school.
Montessori Elementary School
One of the most important principles of our pedagogy is the multi-age classroom. Our Montessori elementary school, catering to children aged 2.5 to 10 years old, is organized into two classes:
A Pre-Primary Class for children aged 2.5 to 6 years: This bilingual pre-primary class provides a stimulating environment with adapted Montessori materials, fostering holistic development and innate curiosity. It nurtures fundamental skills and cultivates an early love for learning, encompassing cognitive, social, and emotional aspects.
An Elementary Class for children aged 6 to 10 years: In our bilingual elementary class, children experience a self-directed environment with Montessori materials tailored to their specific needs. Students are free to explore their interests through chosen activities, guided by teachers to develop critical thinking and problem-solving skills. This approach encourages responsibility and prepares them for academic and personal success.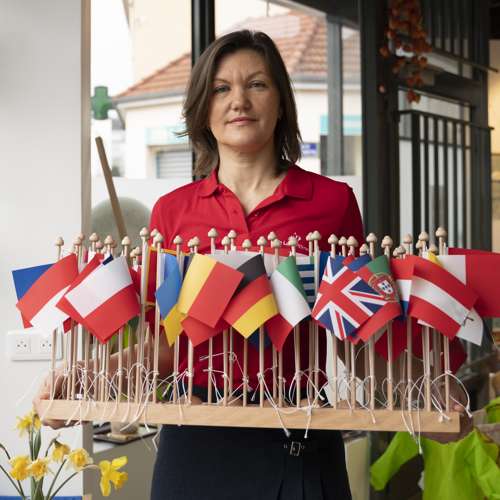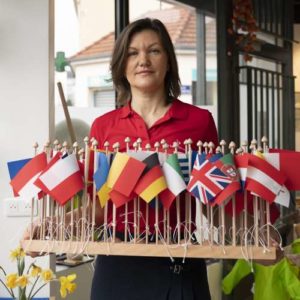 While a traditional school focuses on social conformity, external rewards, such as grades and evaluations, and also promotes competition, in each of our classes, students collaborate with a high degree of autonomy. This is made possible through a prepared environment that encourages personal engagement. The child works for their own fulfillment, observing others, collaborating, and offering assistance. Thus, in our private Montessori school, We Love Mômes Versailles, the child benefits from considerable freedom.
Our mixed-age educational approach differs from the conventional chronological grouping, which emphasizes social conformity, external rewards, and punishments like grades and evaluations.
Strengths of the Montessori School
Taking a closer look at the comparison between private Montessori and traditional educational systems, we will highlight the child's ability to work at their own pace for extended, uninterrupted periods. In our classrooms, periods of independent work last from 2.5 to 3 hours. Since the activity is chosen by the child, it allows for genuine concentration, further enhanced by the fact that each child tailors their work to their level.
This advantage is significant when compared to a traditional system, where each academic subject is covered within fixed timeframes and where each student depends on the class level.
Our pedagogical approach establishes a subtle balance between academic work and the freedom of movement, thus creating an enriching educational environment. At the heart of our Montessori school lies the harmony between mental, physical, and social activities. This holistic approach allows students to develop not only their academic skills but also their creativity, autonomy, and sense of responsibility.
In comparison to the fragmented education in public or contract schools, which are obligated to teach non-interdependent academic subjects. These subjects are presented during long seated periods, limiting the ability to move and disrupting concentration.
Montessori: Active and Individualized Learning
In our classrooms, we offer engaging and multisensory learning through dedicated educational materials and a prepared environment. Montessori classrooms indeed provide a pleasant environment with available and accessible Montessori materials. This involves decision-making, where students choose their tasks based on their individual interests, with the adult acting as a guide.
We do not follow the traditional passive learning approach in the classroom, characterized by lectures, teacher-centered methods, and the use of textbooks. On the contrary, we emphasize maximum independence within the provided framework. Students are not solely dependent on the teacher to direct all activities.
Learning through Self-Evaluation
Children learn by using educational materials or self-correcting activities. The child observes their own mistakes by themselves or with their peers and can correct them. The mistake is not seen as a fault but as an opportunity to improve.
This is in contrast with the concept of ranking that occurs in traditional schools when work is evaluated and ranked by the teacher. Students position themselves in relation to the group as the best or the worst in the class. This often creates stress and resistance towards learning.
Close Student-Teacher Relationship
A key role of the Montessori educator is observation. This conscious and intensive observation enables a comprehensive and accurate assessment of the child's development. The adult responsible for the classroom evaluates the children not only academically but also psychologically and socially. The interventions made to guide the child are thus highly targeted to maintain a natural developmental process.
In a standardized education system dictated by the national curriculum, teaching is focused on the classroom. This prevents a close interaction between the student and the teacher. Standardized tests are what illustrate the student's progress and abilities.
Activities at a Private Montessori School
Within We Love Mômes, enriching complementary activities offer children much more than just an addition to their daily work. As a private school, we provide children with the opportunity to explore various domains. These activities broaden their horizons and nourish their perception of the world.
Art holds a vital place in this journey. As a means of expression, it enables children to communicate their emotions and develop their fine motor skills. Artistic activities stimulate their creativity and self-confidence, in accordance with Montessori pedagogy.
Music and movement enrich their sensory experience. By enjoying diverse melodies and exploring their own movements, children freely express their moods, thereby reinforcing their personal expression.
Practical skills are also cultivated through activities such as cooking and snack preparation. By working together, children learn cooperation and responsibility while gaining important life skills.
Meal-sharing and nap time are moments of relaxation and precious social interaction. They promote the bond between children and strengthen their sense of community belonging.
The presence of the educational garden and animals completes this environment by providing a source of comfort. They teach responsibility and respect towards living beings, raising children's awareness of nature.
Lastly, outings and visits offer practical and enjoyable learning opportunities, enhancing the connection between children and their surroundings. External contributors, whether artists, scientists, or other professionals, enrich the children's experience even further. They share their knowledge and stimulate the children's curiosity.
These complementary activities, infused with Montessori values, contribute at We Love Mômes to a comprehensive and balanced education, encouraging the personal and social development of each child.