The Forest School workshops
Every Wednesday afternoon, from 1:30 PM to 4:30 PM, we organize activities in the heart of the forest related to nature for all children starting from 4 years old.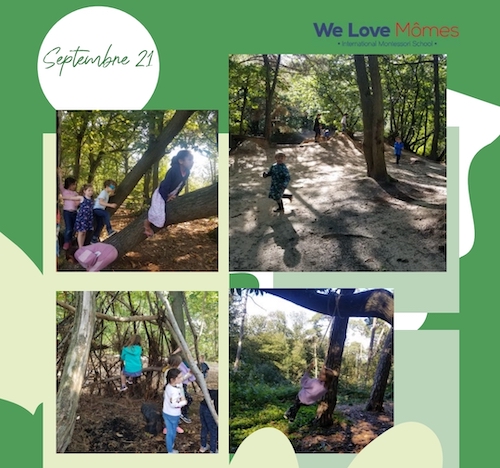 Is your child spending too much time in front of screens, and you want to offer them an outdoor extracurricular activity? Look no further than our Forest School Wednesday afternoons!
For 3 hours, once a week from September to June, children learn while having fun in the forest right next to us.
Guided by certified and passionate instructors, children aged 4 to 8 go out to get some fresh air. The agenda includes large-scale ecological games, survival skills, crafting bows and arrows, emotional intelligence workshops, and even free time. Your child won't be bored, that's for sure!
Forest School Workshop Schedule
✅
Every Wednesday, children have an appointment with Karima, our English-speaking teacher, and Laure, our "nature guide."
✅ The children work on eco-responsibility and personal development, all while having fun.
✅ Examples of games: mud face sculptures on trees, making jewelry with materials found in the forest, treasure hunts, ninja courses, becoming animals to learn nonviolent communication, and more.
After this fulfilling afternoon, the children leave with smiles and the eagerness to come back the following week!
Registrations are still open: irina@welovemomes.org
The outings are maintained even in case of bad weather (unless the weather poses a danger to the children's safety).